How Do I Prevent Constipation?
Before you jump to medication, the first step in constipation prevention involves lifestyle changes.
A simple place to start is your diet. By consuming more fiber, your stool can increase in weight and more easily pass through your intestinal system. Choose fiber-rich foods such as fruits and vegetables and foods labeled as having 3 grams or more of fiber.  It is also important to drink at least four to six glasses of fluids per day.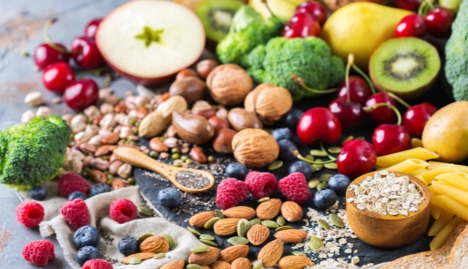 Check out the chart below for some fiber-rich foods:
Beyond your diet, the next set of lifestyle changes involve your daily routine. Try to fit in a workout most days of the week, as regular exercise increases muscle activity in your intestines. Another key to digestive ease is giving yourself enough time to pass a bowel movement. While it can be difficult to fit a trip to the bathroom in your busy schedule, your body will thank you later if you take care of your number two needs in a timely fashion.
Getting Relief
No matter how many lifestyle changes you make, you may still sometimes find yourself stuck in a constipation bind. Often constipation can be a result of hard, dry stool. Taking a product that helps soften stool can provide comfortable relief. Learn about the benefits of different brands below:
Comparison of leading national OTC brands that claim to help soften stool*
Colace® Stool Softener Products
Other Leading Brands
Colace® Regular Strength Capsules
Colace® Clear Soft
Gels
Colace®
2-IN-1 Tablets
MiraLAX Powder
Dulcolax Stool Softener Liquid Gels
Phillips Stool Softener Liquid Gels


#1 Doctor Recommended Stool Softener Brand
✔
✔
✔
Pulls fluid from the body into the colon with a synthetic polymer
✔
Generally provides relief in 12-72 hours
✔
✔
✔
✔
✔
Convenient pill form; no need for mixing or measuring
✔
✔
✔
✔
✔
OTC label includes dosage for children under 17 years old
✔
✔
✔
✔
✔
Dual-Action stool softener and stimulant laxative
✔
*Source Nielsen Retail Sales report 52 weeks ending 7/13/19
MiraLAX and Phillips are trademarks of Bayer
Dulcolax is a trademark of Sanofi